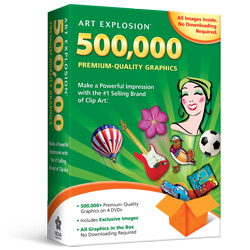 Product Description:
A Beautiful Clip Art Solution! What You See Is What You Get!
Art Explosion 500,000 is a clip art software developed by Nova Development. The Nova Development Art Explosion 500,000 Software is eminent for the highest quality and unparalleled variety graphics accessible. The new Art Explosion 500,000 proceeds the brand's dedication to the clip art classification, with a staggering new selection of professionally designed graphics, photographs and vector illustrations.
Best among all, All that you need is inside the box. Just like all other clip art selections, no subscription or downloading is required. You will get everything right in the box and you can access it anytime when you need.
Every image is compatible with every graphics program and desktop publishing such as Compatible with all word processing, desktop publishing and graphic programs, including: Adobe Photoshop Elements, Art Explosion Publisher Pro, Adobe Freehand, Adobe Photoshop, Greeting Card Factory, Microsoft Word, Adobe InDesign, Microsoft PowerPoint, PhotoImpact Pro, PrintShop, Adobe Illustrator, Microsoft Publisher, QuarkXPress, Scrapbook Factory, Business Card Factory, Microsoft Works, Hallmark Card Studio, PrintMaster, CorelDraw, Photo Explosion, Print Artist, and many more!
Features:
✔ 500,000+ Royalty Free Images All Inside the Box
✔ More Than 80% Color Images
✔ 24,000+ Raster Images and More Than 200,000 Scalable Vector Graphics and
✔ A complete library loaded with 15,000 24-bit color images in classifications extending from Architecture to Water Sports
✔ Create professional or personal projects, such as brochures, s500,000+ Royalty-Free Images All Inside the Box. 124,000+ Color Photos in Every Category Imaginable. More than 200,000 Scalable Vector Graphics. On-Screen Image Browser with Full Color Preview. Photorealistic Scrapbooking Graphics & Embellishment scrapbooks, and many more with 750 high quality fonts and graphics
✔ More than 2,000 fabrics, textures, woods, beads and marbles give the ideal background for your projects.
✔ More than 150,000 Scalable Vector Graphics
✔ Easily add newsletters, brochures, flair to flyers, greeting cards, banners, and more.
Get your software and have fun while creating your projects!
Visit back regularly for various new and exciting Kid's Creative Software.