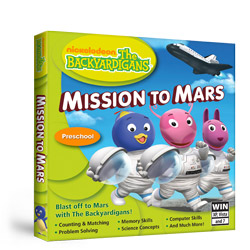 Product Description:
Take off to Mars with the Backyardigans!
The Backyardigans: Mission to Mars is an educational and exciting game for kids in which you offer assistance to the group in locating the source of the signal radiated from Mars. The game contains two modes: Free Play and Journey. In Journey you play the distinct phases of the mission in the series and once you finish one, that particular mission will become accessible in the Free Play mode for you to play any time you want to play.
The mission involves many phases depicted by distinct games. Tasha and Tyrone are Mission Control experts who send their courageous astronauts Pablo, Austin and Uniqua on a mission to discover life on Mars. Assist the Backyardigans achieve their mission on Mars! Discover the diamonds, but watch out for the meteorites and craters. Good luck!
Backyardigans: Mission to Mars gives children a chance to investigate other worlds with the Nick Jr. cartoon characters! Calling all space explorers: Commander Uniqua needs you to go along her courageous shuttle group on their mission to locate the origin of an unfamiliar sign being sent to Mission Control from Mars. Take off to Earth's closest neighbour, in one out of this world adventure and exciting game!
Features:
✔ From the popular animated children's programming series.
✔ 10 educational and interesting exercises introduce your kid to a world of discovery and learning.
✔ Hold Tight, Dance-along with Pablo
✔ Master preschool basics: problem solving, memory, shapes, colors, and more.
✔ Easy to learn and play
✔ User-friendly interface
✔ A Message, A Message, Dance-along with Uniqua
The Backyardigans: Mission to Mars is an excellent educational game app for children that facilitates an exceptionally intriguing theme and exciting educational games that will keep them entertained while they likewise discover some new information. Download now!