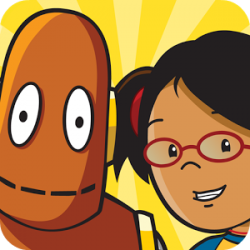 Product Description:
Discover New Learning every day!
Make BrainPOP Jr. part of your daily routine at home, in the classroom, or on the go! Watch a distinct animated movie each day and then check your new learning with an intuitive quiz.
The movie topics include maths, writing, current events, holidays, historical milestones and figures, and much more! This app is ideal for casual, explorative and informative learning at home, in the classroom or on the go.
BrainPOP Jr. is intended to develop critical thinking and learning skills and motivate kids to make connections and ask questions. This Children's Video App is simple and easy to access for all adults and kids.
Brain Pop, Jr. has a featured movie-of-the-week. Each and every movie is interesting, informative and fun for both adults and children! For instance, the week of October 24, Brain Pop, Jr. offered a movie about Halloween This movie has information about how Halloween originated, how it has changed and how to stay safe today. This is fascinating and significant information for children!
Allow your children to investigate many of Maths, English, Science, Social Studies, Arts, Engineering, Technology, Health, Music, and many other topics directly on their cell phones. All videos are close inscribed, so it is simple for them to read and understand.
The main page of this app is separated into following main topics: Science, Technology and arts, math, social studies, language and reading, and health. First of all, children need to choose one of the main topics. When they choose the topic, it gets separated into more particular classifications. Under every class, individual movie topic pages show up.
Features:
✔A new educational and engaging movie every week
✔Optional quizzes after the movie
✔A relevant comic strip with a fish after each movie
✔A relevant joke after each movie
In-App Purchases:
✔Full access, $5.99 per month
✔Explorer, $1.99 per month