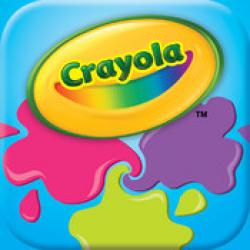 Product Description:
Crayola Paint & Create - The colorful and beautiful approach for little hands have hours of fun on your device.
Crayola Paint & Create breathes life to your device with hours of painting, coloring and various other activities.
Crayola Paint & Create, developed by Griffin Technology, is an amazing and creative children's app for your little designer. Connect the dots, Color photos, search and find with distinct mediums and colors. Make your profile and link up your Crayola apps!
With Paint & Create, your fingers become paintbrushes, colored pencils, markers or crayons in your loved Crayola colors. Simply tap on the familiar yellow and green crayon box on the device's screen. Color in the app's animated coloring pages or begin with a blank page and create anything you can dream.
Crayola Paint & Create offers hours of fun time with more than 40 activities include mazes, dots to dots, puzzles, color by numbers, games and much more. Additionally, genuine music, animations and sound effects add to the enjoyment. Children can color in animated pages, or create their personal works of art from a blank canvas. All your work can be saved to the gallery, uploaded to Facebook, printed out or e-mailed.
Features:
✔ Color a photo for each of the seasons with crayons, markers, paint, and more!
✔ Connect the dots to finish the Photo. Who is eating that banana?
✔ Search, find and color the mentioned items on easy, medium or difficult
✔ Doodle with the markers, colored pencils, crayons and paint brushes on a blank screen
Crayola Paint & Create is an amazing app. Whatever you make or draw, you can share or print. Download Now!
In-App Purchases:
✔ Make Believe Animated Coloring Book, $0.99
✔ Pirates Animated Coloring Book, $0.99
✔ Maze Activites Activity Book, $0.99
✔ Color by Number Activity Book, $0.99
✔ Matching Activity Book, $0.99
✔ Early Childhood Activity Book, $0.99
✔ Finish the Picture Activity Book, $0.99