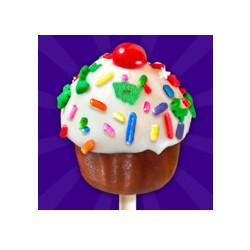 Product Description:
What is superior than eating a cupcake? Eating a cupcake that you pick the flavor/taste for and you embellish!
Make Fancy Schmancy Cupcakes with rich creamy sweet frosting in a taste you love!
Cupcake Pop Maker is a creative kid's software developed by the Black Belt Clown. It is like a natural bakeshop where you can make your personal tasty cupcake pops. Baking cake pops become easy and simple with this app. Collect the ingredients and blend them up before you even go up to the oven. Flour, chocolate, Eggs, cream and vanilla, everything you require to become a dessert chef is right in front of your eyes! Make use of your fingers to plop the batter into a platter and place it in the oven. As soon as the cake batter is mixed, put it into a pan and place it in the oven. Do not forget the cake pop sticks! Finally, add your newly baked cake pop to your inbuilt gallery. You may be endorsed by the number of personalization is provided!
This real and amazing baking experience of Cake pops will certainly bring enjoyment for children. Cake pops dressed up with syrups, fruity, candies, and fun faces will be colorful and attractive. It is also a reward for the ice pop fans.
Features:
✔ Be a chef and bake dessert cake pops from start to end.
✔ Embellish your cake pops with fun toppings and frostings.
✔ Creamy, Sweet and Icy Delights
✔ No cooking mess, simply cooking success!
✔ Watch desserts bake in the oven
✔ Share your Cake Pops with friends through social media
✔ Cute fun faces to increase the enjoyment factor for children
✔ Creativity skills for little kids
Download this lovely app now!
In-App Purchases:
✔ Cute toys $0.99
✔ More flavors $1.99
✔ Decoration pack $3.99
✔ Unlock everything at once in the Master Pack $4.99