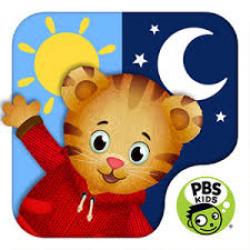 Product Description:
Get educated about morning hours and bedtime activities with Daniel Tiger's Day and Night app, developed by PBS KIDS. Assist Daniel with getting dressed for school in the morning and also in bed at night through creative play and music.
Daniel Tiger's Day and Night app assist to educate your kid healthy habits and routine. Assist Daniel Tiger wake up in the morning, go the routine of getting dressed for the school and sing his morning song. At night, Assist Daniel Tiger to get ready for sleep and also to sing his bedtime song. This musical app is definitely to engross and teach your child the value of a decent routine for morning and night!
Parents/Guardians need to realize that Daniel Tiger's Day and Night is a cute easy to use app which educated kids to morning and evening activities. The activities covered involve morning songs, brush teeth getting dressed for school, breakfast etc. in the morning and bedtime songs, getting ready for bed, brush teeth etc. at night.
This children's video app is a decent early presentation for children who may have issues with the arrangement and being attentive to their daily activities.
The app includes various tasks about morning hours and bedtime activities, in addition to Good Morning and Good Night strategy music to strengthen those activities. There is additionally a built in timer that can be utilized to assist children stay focused on the task.
SONGS
Play the Good Morning and Good Night music whenever to strengthen each routine.
Features:
✔Chose between Good Morning and Good Night and help Daniel Tiger to complete the routine
✔Meet Daniel's Mom and Dad as they also help him
✔Sing along with Daniel and get to know his songs
✔Help Daniel get dressed, brush his teeth, eat breakfast, and more!
In-App Purchases:
✔There are no in-app purchases for this game, but there is an initial cost of $2.99.