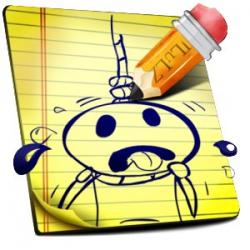 Product Description:
Doodle Hangman Free is a should have hangman game with 4 awesome themes (Christmas Snowman , Doodle Hangman, Flower Power and Chillin' Chalk), 73 word categories including 7 random modes and 11 great songs.
There is additionally 2 player mode, which allows you to enter your own words and play with your friend!
Many individuals love to have Hangman, and this kid's game app improves the game even better! Select your category and begin assuming. This app is an entertaining approach to rehearse letters and words and to pass the time. A lot of fun, educational and entertaining! Do not worry, your man won't really hang at the end!
Doodle Hangman is an entertaining animated hangman game that you will love to play over and over. Enhance your vocabulary! Dictionary lookups from 1 of 5 reference website permits you to figure out more about words.
Categories include: Fruits & Veggies, Plants & Trees, Clothes, Christmas & Winter, Human Body, Countries, Foods, Elements, Kings & Pirates, Animals, Sports and Random
Features:
✔ Helps increase both spelling ability and vocabulary
✔ Enjoy playing single player or against a friend
✔ Fun and educational at the same
✔ 73 word categories including 7 random modes and 11 great songs
✔ Select from a variety of distinct categories
✔ Watch amazing arts come to life when you guess wrong!
✔ 4 distinct themes to choose from
✔ Both 1 player and 2 player modes
✔ Use the dictionary to look up words when the game is over
✔ In 2 player mode one player enters a word for the other to guess.
✔ Play as long as you can, after each correct word a new word and scene appears.
✔ Great background sound effects and music.
✔ Automatically save the game play when you close it or answer call.
In-App Purchases:
✔ Full Game (Ultimate Hangman), $1.49