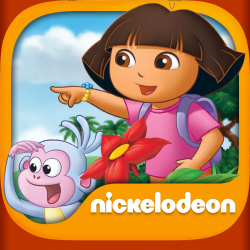 Product Description:
STEM-based mini-game facilitates children a bit above basic preschool abilities
Dora's Great Big World is loaded with exciting places you and your kid can investigate, explore, such as the Purple Planet, Star Mountain and Isa's Garden. Dora's Great Big World is an exciting and a fun educational app for your pre-schooler or little ones. Completely loaded with a parent's guide, your kids will soon be adding to his or her proficiency and STEM (science, technology, engineering and maths) skills via a variety of fun mini-games with all of Dora's companions including Tico, Boots and Isa. Your kids gain stars to exchange for stickers, moving from junior discoverer to great and eventually super discoverer. This is what having fun while learning is all about!
Consistently Dora will take your children on a learning experience with interactive explorer badges and stickers as prizes along their way! Top off the Backpack to go from a Junior to a Super Explorer/discoverer!
Each and every game demonstrates basic concepts necessary for preschoolers and kids. Games are designed and levelled to enhance in difficulty. Relevant ideas are given to support kids as they build and practice their school-readiness abilities. Dora's Great Big World is the excellent tool to assist your kids get ready for school!
Kids will also gain stars as they play games and explore every location. Use stars to unlock animated stickers in Backpack! As you unlock more and more stickers, your kid will become a Junior, Great and Super Explorer or Discoverer!
Features:
✔ Practice literacy development through letter recognition and a variety of other ways.
✔ Practice STEM skill development through building
✔ Problem solving ways to move asteroids and free stars
✔ Decorate pages with hard-earned stickers
✔ Fantastic visual effects in high-definition
✔ User-friendly Interface
✔ Easy to learn and play
Download this app today!
Visit back regularly for various new and energizing preschooler's educational apps.
In-App Purchases:
✔ Tico's Nutty Forest, an additional level $1.99