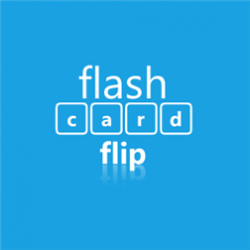 Product Description:
Flash Card Flip is an easy, however, effective tool for memory training and learning. Flash Card Flip is a Flash Card app and is the aggregate bundle to stimulate and strengthen the mind, enhancing memory recall and retention.
Making learning fun and simple for your kid, permitting your kid to learn simply by tapping and flipping the cards and discovering the right answers from 3 cards.
Flash Card Flip is an efficient educational app for kids that educates picture and word association. It amazingly shows more than 125 images of fruits, shapes, animals, vegetables, numbers and objects with fun animations, translated into 18 languages. This beautiful app permits you to learn in an exciting and pleasant way. Flash Cards are pairs of pictures, phrases or words related to each other and displayed on each side of every card. Consolidated with an amazing graphics FlipCards will assist you to memorize, learn and associate anything you love.
The Flash Card Flip app opens your kid to a lot of distinct images and words. Inspire your little child's brain by demonstrating to them more than 125 distinct images with comparing words. This is an excellent fun app for your little ones educating them to figure out to find Colors, Animals, Alphabets, Toys, Shapes, Fishes, and Birds using flash cards.
Features:
✔ Select between alphabets, animals, shapes, etc.
✔ Translate into 18 distinct languages
✔ Enjoy over 125 words and images
✔ Simple and user-friendly interface
✔ Text to speech, record and video
✔ Outstanding artwork
✔ Support for text and images
✔ Flip, swipe or touch your way though the cards
✔ Share your sets with friends via email
✔ Quick and easy access to cards
Download this free app and educate your children with fun, which facilitates you to choose two cards and relate answers.
In-App Purchases:
There are no in-app purchases, but the game must be purchased for $1.99. Download the free 15 day trial to test out the shapes section!