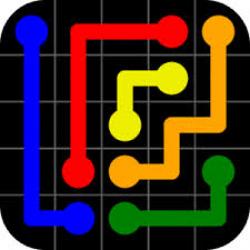 Product Description:
"Flow Free" is an entertaining, stimulating, addictive game. Connect the same colored dots without overlapping or crossing over. This puzzle game will make your child think. Move up through the levels and the board sizes to challenge yourself and purchase additional levels.
Features:
✔ Enjoy brightly colored boards in a theme of your choosing
✔ Choose your board size and difficulty level - ranging from 5x5 to 9x9
✔ Play over 900 levels for free!
✔ Practice your skills in free play mode
✔ Challenge yourself in time trial mode, choosing your board size and time limit.
✔ Label your flows with letters to eliminate any color confusion!
In-App Purchases:
✔ Unlock all packs, $4.99
✔ Green pack, $1.99
✔ Blue Pack, $1.99
✔ 10x10 Mania, $1.99
✔ 11x11 Mania, $1.99
✔ 12x12 Mania, $1.99
✔ 13x13 Mania, $1.99
✔ Kids Pack, $1.99
✔ Purple Pack, $2.49
✔ Pink Pack, $2.49
*Purchasing any pack results in the game being ad free