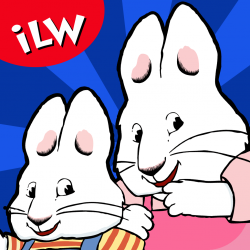 Product Description:
Get your kid prepared for school with Max & Ruby and these educational and fun Science learning games for children in Preschool designed for iOS devices!
iLearn with Max & Ruby: Science! is an app all about the forces of motion, the motion of objects, the properties of liquids, and playing make believe. In this game, your kid will learn about evaporation, melting and freezing and modify ways to permit water to flow through. This is an educational app that permits your kid to have enjoyment with silly bunnies Max and Ruby!
Max and Ruby are two well known characters simply right to acquaint science ideas and logics to early learners. In iLearnWith Max & Ruby: Science, your kid will learn lessons about fundamental physical science through fun exercises. Most likely without even realizing it, your kid will figure out about numerous science concepts such as motion of objects, liquid properties etc., which is a great prologue to science concepts for children.
By using amazing kid's game apps, kids are prologued to real scientific concepts. As your kid levels up, the games turn out to be progressively more difficult, however with Max and Ruby supporting your kid on, success is accomplished.
Features:
✔ Figure out all about the forces of motion through Ball-O-Rama!: Pull, conform your power and direction and launch the ball into holes to assist Max and Ruby.
✔ Make believe with Max and Ruby: Releases your creativity
✔ Figure out everything about the properties of liquids through Water Blast! Associate the right pipes relying on water state and put the temperature converters to appreciate the attractions.
✔ Get detailed status reports to parent's e-mail address
✔ No third party advertising
You can attempt the first 5 levels of every game for FREE! Unlocking the full version will require a single in-app purchase. So, if love this game, your should purchase its full version.
In-App Purchases:
✔ Full version, $3.99
✔ 1-year subscription, $19.99
✔ 3-month subscription, $9.99