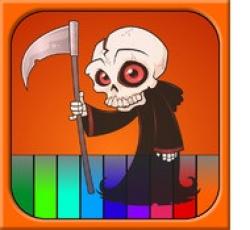 Product Description:
Get prepared for a spooky Kids Halloween Piano with your Android phone. Scare your neighbors and your companions when you go out treating or trick.
Kids Halloween Piano is not your grandma's piano app. It's spooky. It's Halloween themed. It's fun. Play a short scale of supernatural sounds or listen to the preloaded songs play themselves. Buying the Pro version allows for the full range of instruments. User beware: Some of the sounds can be obnoxious, but that really is half the fun.
Unique, spooky looping Halloween sounds that are best fit for trick or treaters and Halloween parties! In all certainly the perfect Kids Halloween Piano app for Android devices!
Pro version contains more than 30 instruments: Knife, Electricity, Tomb Opening, Black Cat, Mad Scientist, Cello, Whip Crack, Violin Screech, Double Bass, Scared Boy, Old Clock, Electric Guitar, Door, Bulldog, Chains, Cricket, Chime, Frankenstein.
Spook your co-workers or classmates in the office and the classroom unsuspectedly. Gravel your siblings out of bed with a shouting wake up reminder.
Sound Effects:
Come Here, People Screaming, Cat Screaming, Trick or Treat, Woman Screaming, Man Screaming, Ghoul Laughing, Happy Halloween (Male), Happy Halloween (Female), Man Screaming (Short), Heartbeat, Simple Boo, Heavy Breathing, Shaky Ghoul, Squeaky Door Open, Witch Cackle, Wolf Howling, Banging
Features:
✔ Fun 9-tone Halloween-themed piano
✔ 30+ hilarious instruments like Bell, Crow, Ghost, Witch, Boiling Cauldron, Organ, Zombie, Scared Girl, Chainsaw, Water Drop!
✔ Lots of preloaded kids songs like Brother John, BINGO, Itsy Bitsy Spider, Black Sheep, This Old Man, Happy Birthday.
✔ Background Music: Horror, Spooky, Storm
✔ Easy to use
✔ User-friendly Interface
If you love Halloween Piano, Kids Halloween Piano is the app for you. Download and install this app now, it will not disappoint you.
Visit back regularly for various new and exciting children's music apps.
In-App Purchases:
✔ Kids Halloween Piano Pro Version $1.99