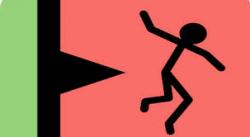 Product Description:
Get addicted to this easy to use one-tap game. Switch your person from the left or the right to avoid the spikes coming to "Make Them Fall".
Features:
✔ Enjoy different difficulty levels ranging from normal to imposible
✔ Challenge your friends with local multi-player
✔ Look back at your home screen to see your best scores in each mode
✔ Focus on the game instead of the controls with one easy tap
In-App Purchases:
There are no in-app purchases for this game, but there are advertisements.