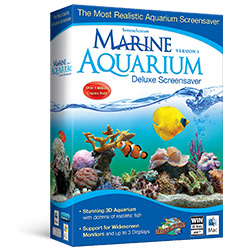 Product Description:
The Most Wonderful and Realistic Looking Virtual Marine Aquarium!
Drench yourself in an amazingly realistic looking aquarium right on your Mac or PC. Modify your fish tank with a wide selection of fish and be charmed by their life like habits as they swim via a 3D reef.
Marine Aquarium Deluxe is the most realistic looking aquarium screensaver having a high definition tank with up to 30 fish at the same time. Dozens of varieties of fish with realistic habits. It also allows you to modify your fish tank with adjustable sounds, bubbles and lighting!
Marine Aquarium Deluxe is a children's software developed by Nova Development. Marine Aquarium provides a high definition and mesmerizing experience. Let Marine Aquarium amaze you with a random combination. Adaptable Effects – Adjust sound effects, bubbles and Lighting to your desired settings.
This Marine Aquarium Deluxe App shows the tranquil charm of the underwater life. This app has dozens of fish, plants, oral, and other marine items. The water sound is an incredible component that makes you sense like you are looking at the marine life from a bathysphere. Maximum of the app settings are simple, such as screen resolution and sound volume, however you can also select and add fish from the list.
The realistic behaviour of Marine Aquarium app puts it in win-win situation above its competitors. Download Marine Aquarium today!
Features:
✔The Most Realistic and Amazing Aquarium Screensaver
✔Dozens of varieties of fish with realistic habits
✔High definition fish tank with up to 30 fish at the same time
✔Play calming music using any of your lovable play lists
✔Customize your aquarium with adjustable sounds, bubble and lighting
✔Multi Platform: Compatible with Macs and PCs
✔Use Multiple Monitors: Spread your aquarium across multiple monitors including wide screen
✔Customizable Submerged Crystal Clock accurately displays current date and time