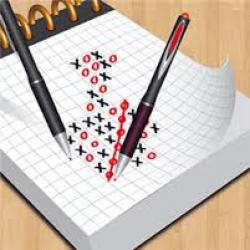 Product Description:
Test your abilities against distinct computer difficulties!
Remember TIc Tac Toe? Test your kid or yourself with this MEGA Tic Tac Toe! This game needs that you match five of your own symbols in a row instead of the usual three, which delivers a radical new test. Even beating the computer easy can be hard! Download and try it for yourself!
After the great achievements in the mobile world, Mega Tic Tac Toe now arrives on Windows 8!
Mega Tic Tac Toe, a kid's software game developed by Noam Behar, is a modification of the classic game of Tic Tac Toe that includes significantly more planning and intelligent considering. It is the most professional version of the classic game of Tic Tac Toe. In Mega Tic Tac Toe, you win the game if you are the first one to point all the five of your symbols in a row, either diagonally, horizontally or vertically. It is demanding both strategically and tactically.
Be the first to mark all the 5 symbols in a row against a computer intelligence with 5 difficulty levels, or challenge your friends in multiplayer mode. Play and think your best, mark the symbols with the minimum possible steps and become the greatest player on the Game Center leader board!
The game is very simple and easy to learn and master. It is profoundly addictive, so expect hours of braining practicing and fun.
Features:
✔ User Friendly Interface
✔ Easy to learn and play
✔ Challenge the computer on different levels for free
✔ 3 levels of Artificial Intelligence
✔ Take your time playing - there is no time limit on your turn
✔ Game Center leader board
✔ Share your high scores!
✔ Beautiful Animated Graphics
✔ Achievements
Looking for an additional challenge? Purchase the full version to play Ad free games, with extremely tough levels!
In-App Purchases:
✔ Full Game - Unlock all levels and remove ads, $1.49