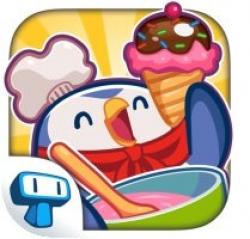 Product Description:
Make your personal ice cream cones in My Ice Cream Maker app! Go across each and every step of the making of ice cream and make delicious and unique recipes. Choose your loved flavors, pick from distinct cups or cones and end it with a combination of candy, straws, sprinkles and syrup. You can even eat your ice cream when you are done! Yummy!
Don not worry, just stay relaxed. The Penguin will instruct you across the complete procedure! Add your recipes to your personal cookbook and try to figure out all 58 unique and delicious ice cream flavors!
My Ice Cream Maker is a creative children's app developed by Tapps - Top Apps and Games. It is a penguin guided, topping stacking, ice cream eating fun time. Begin with regular ingredients and figure out the real life ice cream making technique across a series of fun touchscreen tasks. The combinations are endless and you even get to click a snap of your creation.
Begin with the flavor additives to process creamy and sweet base for your ice cream recipe. Pick a cute cup or cone and complete with delicious and unique toppings!
Flavor Ingredients: Banana, Hazelnut, Almond, Cherry, Lime, Berries, Chocolate, Coffee, Cookie Dough, Vanilla, Pineapple, Chocolate Chips, Mint, Coconut, Cookie Bits, and Strawberry.
Toppings and Cones: Dozens of toppings, cones, cookies, candy, and various other sweet treats to make your masterpiece.
Features:
✔ Cookbook to save all your ice cream recipes
✔ Endless possible combinations of items
✔ It doesn't freeze your hands!
✔ Save images of your creations and share them with friends through social media or email.
Don't wait! Download the app now and become the greatest sorbet chef!
In-App Purchases:
✔ Reveal first ingredients hint $0.99
✔ Pack with all ingredients $1.99
✔ Pack with all recipes, flavors and ingredients $2.99
✔ Pack with all frosting, candies and decorations $2.99
✔ Pack with everything $3.99