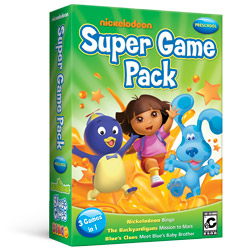 Product Description:
Play Bingo, visit Puppyville or Explore Mars with your loved characters!
Investigate, Play and Learn with Nickelodeon Super Game Pack. Developed particularly for ages 2-5, Nickelodeon Super Game Pack includes 3 exciting and fun games in one complete set and easy to use! Your children will enjoy their loved TV characters from Go Deigo Go, Blue's Clues, Dora the Explorer, The Backyardigans! and much more with 3 excellent games in 1 pack.
With 3 different game types and 3 different game levels, every individual can play and enjoy Bingo with their Nickelodeon companions! Join Deigo, Dora, and so many more as they discover and learn about letters, colors, shapes and numbers, win tickets for cool and exciting virtual awards.
The Backyardigans, comes 10 amazing and instructive activities to acquaint your preschooler or kids to the world of music, memory, space, and more! There are a few unknown radiations coming from Mars, and you ought to join Commander Uniqua and her brave group on their mission to figure out what is behind it!
With intuitive games spread across 4 distinct levels, join Joe and Blue as they investigate Puppyville, searching for Blue's baby brother! Visit to exciting and fun places like the number kingdom, collecting Gold Clues, Shape Forrest, Cloro Town, and Alphabet City, all while finding the world of shapes, colors, numbers, letters, and much more at the same time!
Features:
✔ Important Preschool Skills including Math, Science, Creativity, Memory Skills, Language, and many more
✔ 3 Fun Ways to Entertain and Educate
✔ 3 Great Games all in 1 Pack
✔ Easy to learn and play
✔ User-friendly interface
✔ Kids Safe
✔ Exciting and fun educational games
✔ Any skill level can be played — easy, medium or hard
✔ Players can also win tickets for virtual awards
Don't miss! Get your Super Game Pack today!
Visit back regularly for various new and energizing kid's and preschooler's educational apps and software.