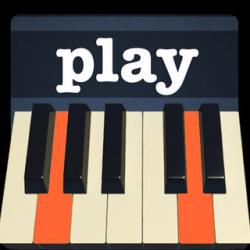 Product Description:
Piano Infinity: featuring five instruments, inspiring romantic tune. Best suited for sound tracks, slide show, radio, background music, logo, history, for any type of commercial.
Piano Infinity is all that you will ever desire in a piano. Gain access to five instruments with learning, jamming and recording attributes. Piano infinity sounds and feels like the genuine thing. Tap out your most loved tunes or music on an organ, pub piano, grand piano, electronic keyword, or harpsichord!
If you are interested in learning a little piano, Piano Infinity is the app for you. As you become better, challenge yourself with the more difficult levels and songs - including using two hands!
Piano Infinity developed by Better Day Wireless, Inc, is an excellent kid's creative app. This all in one app provides access to 5 instruments, a fun music game, music creation and editing, and a built-in piano teacher with huge collection of beautiful songs or sounds! Presently, there is no more reason to hold up to figure out to play the piano, it's never been simpler! Play and Learn on your own schedule and at your own pace.
Features:
✔ "Jam out" on an invisible keyboard and play fun songs!
✔ Play on the keyboard and choose from a variety of levels and difficulties
✔ Create your own music with sheet music or by hitting all the right notes
✔ Choose a piano type (grand, organ, etc.) and play freestyle!
✔ Lock the keyboard the screen so it's your only focus
✔ User-friendly Interface
✔ Easy to use and play
✔ Kids Safe
Don't wait, download Piano ∞ and get started today!
In-App Purchases:
✔ Piano Infinity Learn, $9.99