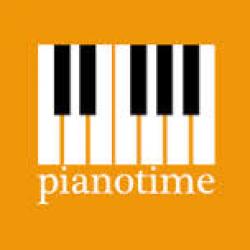 Product Description:
A universe of musical diversion and excitement on your fingertips!
Appreciate the amazing design, high quality sound and graphics while you rehearse your piano skills!
Haven't you generally wishes to figure out how to play piano? Piano Time is the app designed especially for you! Watch or play with the instructional exercises for songs as easy as Mary Had a Little Lamb, or as complicated as Ode To Joy. This is an awesome app for someone simply beginning to learn the piano!
Prepared to learn, explore, practice and entertain your friends with your recently discovered musical specialty? It is Piano Time.
Piano Time, a children's creative app from Revel SoftwaThe is absolutely perfect and real fun. Piano Time is a multi touch piano composed of four selectable octaves and 36 visible keys. You can customize the look and feel of the app and also you can set up the metronome. With a configurable metronome, individuals can easily learn how to play the piano or rehearse their skills, and also playback and record a huge number of songs. As of now you can easily save and share your recordings as MP3s and select from various keyboard mapping choices!
Features:
✔ Watch or play with the Piano Time as you figure out how to play an assortment of scales and songs
✔ Record your own music
✔ Save your recordings as an MP3 file and copy it later
✔ Configure the metronome on your own
✔ Customize your background colors as you want
✔ Turn swipe/hover and key mapping modes on and off as your convenience
✔ Supports multi touch screen, mouse and keyboard input
✔ Convenient
✔ Easy to install and use
✔ User friendly interface
✔ High quality sound
The app is absolutely perfect and real fun. Download Now!
In-App Purchases:
✔ Save MP3 Recordings, $1.99
✔ Remove advertising, $2.49
✔ Buy the PRO version, $3.49