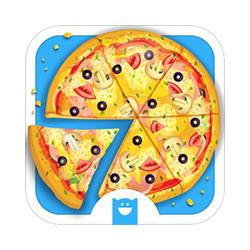 Product Description:
Make a tasty pizza, bake it in the oven and have a lot of enjoyment slicing it!
Make your personal tasty pizza and make this a delicious experience. Release your imagination – select from a huge collection of ingredients and make the type of pizza you love.
Pizza Maker Kids - Cooking Game is an app developed by the Pilcom d.o.o. It is a pizza making recreation for the individuals who want to make their personal genuine pizza. It is dynamic in color and supports delicious looking ingredients including spices, herbs, Italian, seafood, and American toppings. When it is done cooking, there are zany toppings out there such as life preservers and toy cars.
There are two games out there after every pizza making. One is a finger-swiping game, in this game you slice stars and pizzas to collect points. The second game is sliding puzzle of your recently cooked pizza. You can save the photo of your pizza on your device, email it and may also share your pizza on social media.
Features:
✔ Natural, simple and user friendly interface
✔ Unlimited gameplay with infinite blends
✔ Animated scenes for baking, making and eating pizza
✔ Distinct cheese types, sauces and pizza shapes
✔ Wide collection of ingredients such as herbs, vegetables, seafood, spices, ketchup, candies, fruits, and also toys
✔ Pizza ninja slice Mini-game
✔ Photos can be saved in your photo gallery to show them to your friends
✔ Slide puzzle Mini-game
✔ Excellent quality game graphics
You can also have fun playing with toys, or play a slide puzzle mini-game or take up the challenge of a pizza ninja slice. Also, you can take and save an image of your masterpiece to show it to your friends. Download the app Now!
There's a "Full Version" option. For a price of $1.99 you can get rid of those pesky ads.
Visit back regularly for various new and energizing Kids Creative Apps and Software.