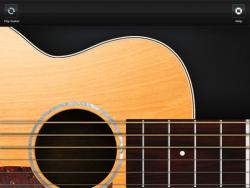 Product Description:
Learn to play guitar!
Play Guitar! transforms your PC into a virtual guitar. You will be able to press and strum strings, rather like a genuine guitar. Hop straight into the guts of magnificent guitar playing by using Play Guitar app. An exciting, entertaining, easy to use and fun children's app. Best for individuals who appreciate or want to learn to play guitar.
Play Guitar is one of the most pragmatic and sensible guitar simulator apps having an amazing sound quality and a user friendly interface. This app is extremely valuable for individuals who love to learn and play guitar. Every one of the notes have been obtained from the live acoustic guitar. With the assistance of Play Guitar app you will be able to simply pluck, strum, and strike the strings to play the chord of any complexity and figure out your loved riffs, songs and tunes or make up your own tunes and songs.
Play Guitar! Offers you some assistance with learning what notes lie on the frets of the guitar. It is an exceptionally valuable tool for each guitarist or every learner.
Work on figuring out how to play the guitar on this helpful and genuine app. Figure out about some of the basic notes and chords without being affected. With Play Guitar you can get a feel of being a guitar hero! Download now and start learning!
Features:
✔ Flip the guitar to the right or the left for your convenience
✔ Consider chords as they are read on music and held on the guitar
✔ Enjoy some free play time
✔ Learn over 30 chords!
✔ Virtual Guitar
✔ Chords viewer
✔ Customizable chord sequence
✔ Constantly updated with new clips
✔ Easy to Install and Use
✔ User friendly Interface
✔ Multitouch
✔ Realistic guitar sounds
In-App Purchases:
✔ Play Guitar PRO!, $1.99