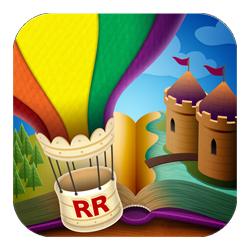 Product Description:
Reading Rainbow: Literacy for Every Child, Everywhere
Reading Rainbow is an educational app developed by RRKidz Inc. Reading Rainbow is loaded with a never ending catalog of books to read, to interact with and to listen. There are stickers to discover and improve with, videos and customizations. The initial download facilitates any 5 books for free. Parents can keep the record of their kid's reading via email.
Kids can choose up to five ebooks at any time from a library. Books are ordered by a couple of floating islands, which have a sliding list of titles. To read the books, Kids need to tap the backpack and choose a book. Every single book has two alternatives: you can read it yourself or to have it read for you. Completing a book gains children a sticker prize. Stickers help keep children inspired, and parents can track how often their children use the app.
Reading Rainbow also includes mini-films covering an extensive series of educational and fun topics, and has a dashboard to offer parents monitor what their children are reading.
Features:
✔ New content every week
✔ Unlimited reading of over 500 quality children's books
✔ Read by Myself or Read to Me functionality to enhance skills
✔ Interactive animations that make every book come to life
✔ Book recommendations based on your child's age and interests
✔ Rewards to motivate reading
✔ Parent Dashboard that allows you to track your child's progress
✔ Focus strictly on the joy of learning
✔ Themed islands that excite and inspire
✔ Kids Safe
✔ User-friendly interface
✔ Easy to use
✔ Educational video field trips
TRY IT FREE and start reading today!
Visit back regularly for various new and exciting children's story apps.
In-App Purchases:
✔ Unlimited access for $9.99 per month
✔ Unlimited access for $29.99 per 6 months
✔ Unlimited access for $49.99 per year