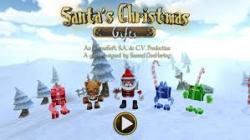 Product Description:
Get yourself in the Christmas spirit at No Cost today with Santa's Christmas Gifts!
Christmas is that time of year when happiness wins and grins are at every step of the way. Get Santa's Christmas Gifts and play a great role in extending the smiles and happiness.
Christmas is a yearly cultural and religious holiday celebrating the birth of Jesus Christ and celebrated by billions of individuals all across the globe. It carries with it lots of celebration and happiness and we get the chance to listen Christmas carols and songs. Santa with his jingling bell carries lots of gifts and smiles for us. Santa's Christmas Gifts make you feel same like Christmas time.
Santa's Christmas Gifts, developed by EnsenaSoft, S.A. de C.V., is an amazing game for children, youngsters and adults of all ages and groups. Help Santa discovering his gifts and reindeer! There is a distinct puzzle or game with each discovery, and it gets somewhat more difficult every time. An educational and fun app for the children around Christmas time!
All of the reindeer and gifts have disappeared from Santa's Village. Offer Santa some assistance with finding them before they all freeze! Every time you discover a reindeer or gift, you get a puzzle or game to solve. Listen to flawless Christmas music by Jeff Wahl as you tackle the puzzles.
Features:
✔ Put together jigsaw style holiday puzzles
✔ Test your memory at the Christmas matching game
✔ Find the pairs of the ornaments
✔ Click all the boxes with the "Bejeweled" style switch game
✔ Walk Santa around in the snow, avoiding candy canes and finding his presents and reindeer friends
✔ Easy to Play.
✔ Bright, Colorful and Beautiful world with Santa's Gifts
✔ Fun, addictive and endless game play
✔ Amazing game graphics
✔ Continuously progressive levels
✔ Challenging missions
Enjoy your Christmas with Santa's Christmas Gifts app. Download now!
Visit back regularly for various new and energizing Kid's Game Software.
In-App Purchases:
✔ There are no in-app purchases.