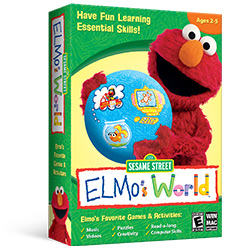 Product Description:
Play and Learn with Elmo!
Best for: Education, Thinking and problem solving, Attention & concentration, Eye-hand coordination, Understanding of the world
Find and Learn with Elmo and Friends! From the pioneers in kid's education and entertainment. 24 videos, 40+ activities, and 10 songs. Videos, Music, computer skills, read-a-long, classic videos and puzzles. Activities help creativity, discovery, and foster imagination. Games automatically adjust to kid's ability. Perfect for children age 2-5.
The purpose behind the development of Sesame Street Elmo's World is to use the educational power of media to assist children everywhere grow stronger, kinder and smarter. Delivered through a range of platforms, including books, digital experiences, community engagement, and television programs. This Elmo's World kid's video app concentrates on daily routines, assisting kids learn them along with their great companion Elmo.
This app is created on the basis of Sesame Street's most loved mini-series of all time. This is a set of collective Sesame Street scenes which will help educate your kid about their surroundings through imagination and play.
Developed for kids ages 2-5, as kids communicate with Elmo, they can rehearse essential skills such as science skills, math skills like counting numbers, school readiness skills like self control, object recognition, and use their imagination and creativity to make art. Now your kid can be a part of Elmo's wonderful world with Sesame Street Elmo's World!
Features:
✔Kids Safe
✔Informational app
✔Watch Sesame Street video clips
✔Play guessing games with Elmo's new companion
✔Easy point and click activities
✔Its gameplay is easy and it does an amazing job of educating early learning ideas
✔Easily accessed favorites section for parent and child
✔Encouragement from Elmo about a variety of things
Elmo's World reinforces and emphasizes essential early learning skills including music, early reading, listening, creativity and game play. Download the App Now!