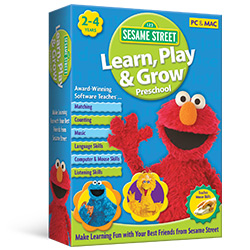 Product Description:
Sesame Street - Learn, Play and Grow is a fun educational software. It has been developed for educating young kids, uniquely intended for ages 2-4. This educational and fun software teaches and enhances numerous skills such as letters, shapes, numbers and counting, art, how to make groups, language and social development, self esteem, classify, match, sorting etc. Easy and simple mouse activities for children, just point and click!
Preschoolers will figure out the fundamentals, yet explanatory, categorization, pre-maths, creative expressions, listening, as well as prereading skills, through a variety of exercises that become dynamically tough as each field is aced. Sesame Street - Learn, Play and Grow, professionally demonstrates each and every subject or topic important to give a preschooler a benefit in school.
This educational and fun game starts with an introductive presentation by Big Bird, who clarifies the distinct learning categories or classes in the main menu. Your kid or preschooler can select one from the categories.
Categories included: Arts and Crafts, Numbers and Counting, Shapes and Colors, Environmental Sounds and Objects, Letters and phonics, and People in Your Neighbourhood.
Sesame Street: Learn, Play and Grow has the fun and exciting value that preschoolers and kids require and also the educational value that parents consider for when looking for preschool or educational games for children.
Key Features
✔ Basics or Fundamental skills: Letters, Maths, Reading, shapes, creative expressions, categorisation, and colours
✔ Early Learning: Encouraging kids to take part in play, exploration and imitation
✔ Language Development: Repeated experiences, listening language in context
✔ Social Development: demonstrating social skills such as taking turns.
✔ Self – Confidence: Encouragement and Positive reinforcement
✔ Kid-safe
✔ User-friendly interface
✔ Easy to use
Sesame Street - Learn, Play and Grow is the children's educational game that will best offer kids and preschoolers start their education learning before their actual education starts. Download Now!