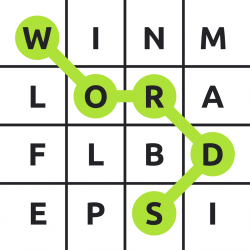 Product Description:
Remember the board game "Boggle"? "Spell Mania" is "Boggle" for your iPad or iPhone! Lots of fun (and spelling practice!) for both kids and adults. Connect the letters in any direction (vertically, horizontally or diagonally) to create words. Longer words mean more points. Choose from three different modes and challenge yourself!
Features:
✔ "Free play" mode to find as many words as you can
✔ "Puzzle mode" to find all the words listed
✔ "Time attack" for a more classic "Boggle" game - a race against time to find words!
✔ The more words you find, the more hints you earn
✔ Beat more puzzles to earn harder levels
✔ Save games and return back to them later
In-App Purchases:
There are no in-app purchases for this game.