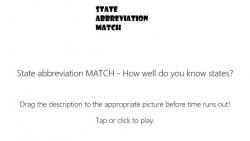 Product Description:
Do you recognize all the U.S. State Abbreviations? This game will let you know without a doubt. Whether you want to test your knowledge or need to discover the abbreviations for every state, this is the ideal app for you.
State Abbreviation Match Game developed by MZSSoft, is a perfect educational game for kids. This educational game will give kids brain a practice! Discover new things and test yourself by progressing to upper stages. Your learning will enhance your understanding and surprise your friends!
Remember the State Abbreviations! Using distinct quiz prompts and distinct modes, this app will help you Remember the State Abbreviations efficiently and quickly.
Playing games is something children like to do, although they end up discovering something while playing the game. This Kid's game facilitates abbreviations for every US state and you have to match the abbreviations with their corresponding states. Are you ready for the challenge?
So, Can you recognize all of the abbreviations for each and every of the 50 United States of America? Can you match fifteen (15) of the abbreviations (i.e. MA) with their corresponding states (i.e. Massachussets) in under a minute? Download and find out!
Features:
✔ Exercise your mind (and speedy fingers) with a new set of fifteen (15) states to match each time
✔ Be fast! You don't have long to match them up...
✔ Don't mess up! You won't lose any points (because there are none), but you will waste valuable time!
earn your state abbreviations - and fast!
✔ Simple design
✔ User friendly interface
✔ Easy to Use
Do you know your state abbreviations? Prove it! Discover your skills matching state abbreviations with their corresponding state names. Time is running out, can you recognize each abbreviation and beat the clock? Prove it? Get Your State Abbreviations Game Now!
In-App Purchases:
✔ There are no in-app purchases.