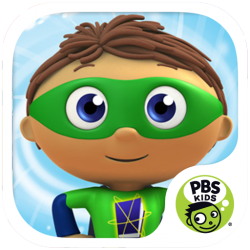 Product Description:
Be Super You in this super app with all your friends - Super Why, Alpha Pig, Princess Presto and Wonder Red! Not only is this game Super fun, but it's also Super educational - helping you to recognize and trace letters, rhyme words and choose the right words for the pictures! You will collect Super cool stickers after each successful mission. Use your collected stickers to decorate and build some Super awesome scenes!
Features:
✔ Help Alpha Pig take the right path and spell the word by finding the right letters.
✔ Help Wonder Red make rhyming groups and earn a new sticker
✔ Help Princess Presto find and trace the right letters
✔ Help Super Why find the right word for the sentence to match the picture
✔ Enjoy an ad-free, child-friendly fun and educational time!
In-App Purchases:
There are no in-app purchases for this game, but there is an initial cost of $2.99 to download the app.