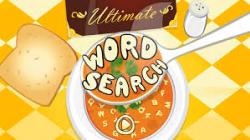 Product Description:
Why to hunt numerous of word search game apps when you can get each of them in one game?
If you love Word Search games, then Ultimate Word Search Free is the game developed only for you! With different themes and awesome background music, including Letter Soup, Christmas and Newspaper to select from, you can have the fun the way you love.
Who doesn't love a decent word search? In this educational and fun children's game app, you or your kid have to look for twelve words in every puzzle. This is a fun and educational game for all ages!
Ultimate Word Search Free developed by EnsenaSoft, S.A. de C.V., is a game app for the PC for the individuals who enjoy to play word puzzles. It is a fun and educational word search puzzle game which delivers you fun and interesting experience when you begin the game. The game procedure is very simple and easy, choose the words by tapping on the start and then tapping on the end of the word you have found. At the point when the right words are discovered, they are accordingly crossed out. Discover all 12 words to unlock a new puzzle.
All in all, discover as many words as you can get high scores.
Features:
✔ Select from a variety of distinct puzzle categories
✔ Race against the clock to win!
✔ Keep track of your best scores
✔ Discover all 12 words to complete the puzzle
✔ Practice spelling words to find them
✔ Different themes to choose from
✔ Fun and educational at the same
✔ Helps increase both vocabulary and spelling
✔ Awesome sound effects and background music
✔ Auto Save
Play and Enjoy Ultimate Word Search Free! If you love Ultimate Word Search Free then you should think about purchasing Ultimate Word Search game without ads.
In-App Purchases:
✔ Get full version, $1.49