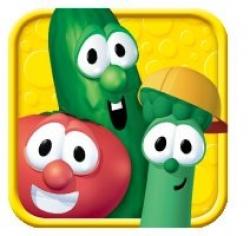 Product Description:
Watch short movie clips and play simple and easy games for free in VeggieTales Watch and Find app. The app incorporates videos from the finest of VeggieTales scenes, including amazing animations, wholesome dialogue and silly songs. This game challenges the individuals to search and discover things in the video clips, and prizes them with new lessions, new clips and new levels.
Kids develop significant abilities, learn life's importance and teach significant values as they play this object find game using various video clips.
New levels with new video clips are rewarded as they find items. Playing with the app is actually a learning experience and also a fun for the youngsters.
The app starts to a very simple swipe menu for kids to choose the video they love to watch. Along with both the image and the title of the clip, even the kids will be able to select their favorites.
VeggieTales is an object finding app for kids. VeggieTales play video clips that permit you to choose characters directly from the episode. It is an amazing fun involvement that exercises motor and reasoning skills. Discover significant values in a technique that is fun for children. All the game objects are developed using real VeggieTales animated video clips.
In this children's video app, activist can select their video clip and play along by discovering the things that show up on the top of the screen, however the activist can simply just watch the movie and sing along with the veggies. So as to gain three stars for the movie, all of the things need to be discovered by tapping on them on the screen.
Features:
✔Develops object identification skills
✔Every themed level teaches useful lessons
✔Keeps kids entertained
✔Regular updates add more game levels and videos
✔Works with or without internet connection
In-App Purchases:
✔Silly Songs $1.99
✔Adventure Pack $1.99
✔Friends Pack $1.99
✔Remove Ads $1.99